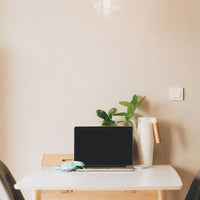 7 Organization Tips for the Paperless Business
More and more businesses are beginning to recognize that being a paperless business has significant perks—and for good reason. Going paperless reduces costs, decreases confusion and errors, and increases productivity. With the rise of electronic technology at the tip of our fingers, it is easier than ever to eliminate paper from our businesses.
While going paperless clearly has its advantages, a significant concern barring some businesses from completely ditching the more traditional business model using paper receipts, contracts, and invoices is a concern of simple organization.
Luckily, there are more organizational tools and programs than ever before to help you keep your business life nice and neat.
Manage expenses and income with Microsoft Excel.
Gone are the days of ledgers filled out with a pencil, calculating business income and expenses. Microsoft Excel is a easy-to-use application most of us learn how to use in high school, but it can yield incredible results when it comes to organizing our businesses income and expenses.
Use a separate sheet for each client or color-code your spreadsheet to differentiate between different clients or income and outcome sources.
Take digital notes.
Instead of filing a notebook with notes or stacking papers of notes on your desk, take digital notes. There are a variety of digital note programs, like Evernote, or you could simply use Word documents, saved in individualized files for each client.
Use digital funds transfer to pay and get paid.
Eliminate the risk of invoices or checks getting lost in mail by using a digital funds transfer application instead. Programs like PayPal, Venmo, and Square allow you to send invoices and receive payment electronically. This also allows you to easily keep track of payments made and due, as well as clearly see the information necessary to build your business expense and income reports.
Create individual email folders for each client.
Most online and paperless businesses use email as a primary method of communication and, as we all know, email inboxes can get out of control very quickly. Clean up messy and confusing email inboxes by organizing your inbox with individualized folders for each client. Most email providers, such as Google and Yahoo, provide this option.
Knowing where to find all communication with a particular client helps you find information more easily. If you are working on several projects for a client, you could even break down that client's folder into subfolders for each task to eliminate confusion as well.
Document paperless receipts.
Rather than slipping paper receipts into a filing cabinet, document paperless receipts digitally. There are several programs, such as Adobe Acrobat or even Google Files, which make this easy to do by simply uploading a photo of a paper receipt or a copy of a paperless receipt to a database.  
Use digital files instead of mailing or faxing documents for execution.
The use of digital and electronic signatures has made it possible to communicate remotely with clients without the need to mail or fax documents to be signed back and forth. Simply upload the file to be sent, sign electronically, and send via email. Some great options for sending your contract to your clients for their e-signature areDocusign andHoneybook.
Use Google Docs to allow others to monitor your progress.
Instead of flooding email inboxes with communication back and forth about a particular document or project, use Google Docs, which allows you to share a document with other people who can then monitor progress in real time. This also allows others to suggest comments, corrections, or changes directly on the document rather than emailing a full explanation of the requested changes.
If going paperless is right for you (or if you already are a paperless business!), make sure to implement good organizational strategies to set yourself and your business up for success.