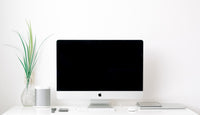 *This post contains an affiliate link for Honeybook, my preferred client management software. If you use this link to purchase a subscription for 50%, I will earn a commission, but I only recommend tools that I use and love in my own business.
Where do you spend most of your entrepreneurial energy? While most business-owners focus large chunks of time and energy on getting clients, it can be easy to forget to plan for once there are clients. 
Marketing your business to your ideal potential clients on social media and in person is only half the battle. What happens next? What do you do when someone says they're interested in working with you? What about after they have agreed to sign a contract? How do you get paid? 
These can be incredibly daunting questions to face, even as a seasoned business-owner. And for a new entrepreneur who has just launched her business? That can be downright terrifying. 
Rather than leave you stressed out and trying to figure this out on your own, I want to let you in on my secret: this is my tried-and-true client on-boarding system I use every single day in my own business. 
A potential client who is interested in working together contacts me. I make this nice and simple by using a Honeybook inquiry form that is embedded onto my website. Clients complete a short form with the most pertinent information I need to know before we set up a time to meet. 
The potential client then selects an appointment date and time. After they complete the Honeybook inquiry form, they are redirected to a Calendly link, where they can book an appointment time with me.
This appointment time is automatically put on my Google Calendar, which saves me time and energy. 
A client profile is automatically created in Honeybook with the potential client's name and contact information. Again, this saves me so much time and energy. Rather than emailing back and forth to get the information I need or work out a date and time which works for both myself and the potential client, Honeybook does the work for me.
Honeybook automatically sends them a thank you email. This program even auto-populates the potential client's name to avoid that spammy feeling automated emails can sometimes bring.
We have a complimentary consultation about their trademark. This is where I make a connection with the potential client and begin our relationship.
If they decide to proceed, I log onto Honeybook and send them a client contract, which I have already created and is ready to go. Again, Honeybook automatically includes their name on the contract.
I send them an invoice through Honeybook.
The new client signs the contract electronically through Honeybook. (No printing, hand-signing, and scanning back into the computer here!)
The new client pays the invoice through Honeybook by debit, credit, or bank transfer. 
And voila - my new client is booked and ready to go! 
Using this client on-boarding system has saved me so much time and energy by eliminating the need for unnecessary email back-and-forth, confusion in setting up a time to meet, creating a new contract for each new client, and trying to decide the best way to send an invoice and get paid. This simple system ensures that both myself and my potential client has all the information we need to move forward in our new working relationship. 
Do you have a client on-boarding system you love? If not, why not try mine? 
Looking to try out Honeybook for yourself? Make the temptation even sweeter with this link for 50% off your Honeybook purchase! 
Need some guidance on your own business? Book a strategy session with me!