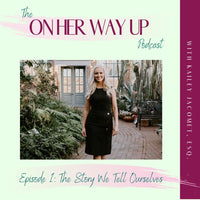 The very first episode of the On Her Way Up Podcast is all about the story we tell ourselves.
Kailey shares the story that she had created in her mind about what her life would look like, and how she eventually shifted this narrative and considered a new dream, one that has taken her from Alaska to China and back again.
The secret?
Challenging your own assumptions and believing that your destiny is completely in your own hands.