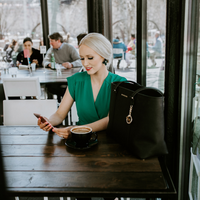 Most entrepreneurs understand that you must have a visionary and an integrator in order to run a successful business. While some business owners outsource these roles, sometimes that is just not possible. Whether that is due to a lack of business finances or another reason that it's just not a realistic option for your business at this time, you may find yourself needing to fill both of these roles for a time.
What is a business visionary?
The visionary of a business is the creative person on the team. This is the person who dreams big and is constantly thinking up new and creative ways for the business to achieve its goals, whether that is to find more clients or sell more merchandise. The visionary is the heart behind the business.
What is a business integrator?
The integrator of a business is the person who makes the visionary's dreams a reality. This is the person who holds the entire organization together by doing everything from implementing the business plan to scheduling team meetings. The integrator also reviews all of the business visionary's hopes, dreams, and plans to help make those a reality. The integrator is the logic behind the business.
How do I be both for my business?
While your dream may be to outsource one, or perhaps both, of these roles, that may not be possible right away. Even if your personality and preference does not fit into one of these roles, it may be necessary that you perform the tasks both of these roles are responsible for, at least for a time. The good news is that it is absolutely possible!
Here are a few tips to perform both roles effectively and simultaneously on your own until you are able to outsource one or both of them:
1. Compartmentalize for success.
When you're working on one of the roles, stick with it and see it through to the end. Switching between tasks decreases productivity because our brains have to adjust to the way of thinking necessary to perform each different task.
2. Allow yourself to do what comes naturally first.
Go easy on yourself. Do what you love and what you're great at first. It will boost your confidence and set you up to perform the other task well too.
 3. Use time blocking.
This is especially helpful if you love a task so much you could get lost in it and also for those tasks you all but despise and have to force yourself to sit down to complete. Set a timer for a specific task or project and do nothing except for that for the time you have allotted yourself. When the timer goes off, decide how much more time you may need (if any) to complete this task and set a time to revisit it later.
 4. Learn what you don't yet know.
Sometimes it can be difficult to commit yourself to a task that you just do not have the knowledge to complete. The great news is that you can find nearly anything on the internet! Find an expert in what you are trying to do and take advantage of their free resources to help grow your knowledge and complete it well.
 5. Leverage mindset strategies.

Both bookshelves and the internet are overrun with self-help books and information about the importance of your mindset when it comes to achieving the success you are chasing. Perhaps you have the knowledge and skillset it will take to be successful in one of these roles, but you just aren't convinced that you could actually do it. Self-improvement work around your mindset could help improve your confidence and help you find the courage to excel in this role.
6. Build systems of automation.
You can't do EVERYTHING alone and you don't need to. A huge game changer in my business was when I began to set up an automation system for client lead generation and on-boarding.
I use an amazing client management system, Honeybook, that allows me to streamline client lead generation and on-boarding, even if I'm on a flight with no WiFi (or playing at the splash pad with my toddler).
On my website, I have an inquiry form that is connected to Honeybook. When a prospective client comes to my law firm's website and completes the form, the information is automatically sent to Honeybook and a new client profile is created. Then, the client is redirected to my Calendly page, where they can make an appointment with me for a complimentary consultation. This is also linked to Honeybook! After they've made an appointment, Honeybook sends out a personalized thank you email from a template I created.
I uploaded my client contract to Honeybook and it automatically customizes it based on the client's profile information. When I go to send a new client their contract and invoice, the entire process takes me less than 5 minutes! After a client pays, the money is sent directly to my business account.
I'm a raving fan of Honeybook and if we've chatted about the subject together, you probably know this already. I reached out to them for a discount for my subscribers and am happy to offer you a free trial PLUS 50% off your first year of Honeybook! While I may earn a commission through this program, I only reached out to them and share it with you because this system has truly changed my business. This is the most significant discount available!
Grab your free trial and 50% discount off Honeybook!
While filling both the role of visionary and integrator yourself may not be your dream, don't allow the negativity, self-doubt, small business budgets, or humble beginnings destroy your dreams. Make a plan, stick to it, and you will see the fruits of your labor!